Available Genre
RSS feeds
Shop Information
In public become stronger! "Guru talk & seminar courses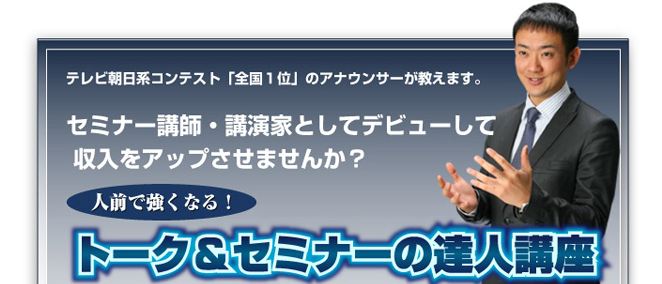 Improve speech, from salaried work in department stores in their own fulfilling career challenging authority Ana. Joined in the third win ranked first in in the TV Asahi series contest. Established business SP to do speech training speech power after independence, excellence. "To improve my speech in one day' has been evaluated from the sandwich tachihi consulting and m-1 world champion.
Rearrange:

Sort by new arrivals



Device:

All

|

The number of displays of items:

80
人前で強くなる!「トーク&セミナーの達人」講座 Product List
USER GUIDE
PAYMENT
Payments are a credit card.
VISA/MASTER/JCB/AMERICAN EXPRESS/NicoS
iOS
iPhone / iPad :You can play even without application. ※ It becomes the streaming playback in MP4 file.
PLAYER
XCREAM Player[Offline version Player]
XCREAM Web Player[Silverlight Player]

Please install Microsoft Silverlight.
The contents (goods with DRM) can stream playback in the Windows and Mac environment.